Charlie and Linda Riggs work together to create a variety of decorative types of pottery. Most of their work is thrown by Charlie who takes time to make a very smooth surface that will later be polished with terra sigillata. These pots are then finished with one of the smoke fired techniques that results in a shiny unglazed surface brilliant with the colors of saggar firing, the bold blacks and whites of naked raku or the subtle marks of horsehair and ferric chloride.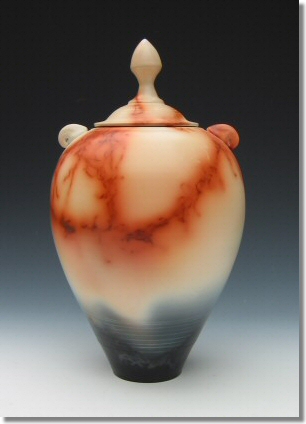 Charles has a Bachelor's Degree in Fine Art--Ceramics. He has been featured in Clay Times, Ceramics Monthly, and Studio Potter as well as in the books, "Alternative Firing Methods" by Watkins/ Wandless and "Raku, The Practical Approach," by Steven Branfman. Charlie has exhibited extensively in the Southeast, the Western US, and as far away as Canada and Norway. He also teaches workshops throughout the US and Canada in a variety of subjects including, Raku Methods, Saggar-firing, Pit-Firing, Raku Kiln Building, and Throwing Techniques. He is a member of the faculty at Laloba Ranch Clay School in Steamboat Springs, CO.

Linda has written a number of articles on pottery for Ceramics Monthly and Clay Times. She is also featured in magazine articles on saggar firing, and in the books by Watkins/Wandless and Steven Branfman. She is on the faculty of Laloba Ranch Clay Center in Colorado and co-teaches workshops with her husband Charlie.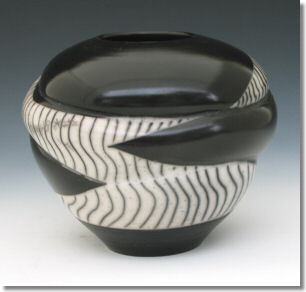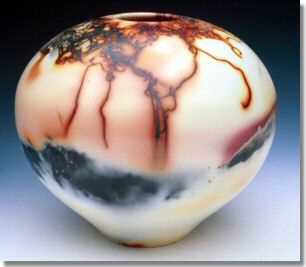 Charlie also has a line of strictly raku pots that reflect his need for creativity. Many of these have multiple layered glazes and a wide variety of shapes which sometimes feature altered forms and interesting lids.

Linda handbuilds sculptural bowls, trays, animals and jewelry which are later finished with one of her specialty techniques--saggar firing or naked raku.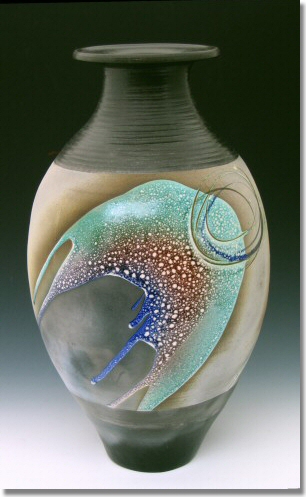 Where you can fine their work:

Blue Moon Gallery, Seagrove, NC.
www.blue-moon-gallery.com
The Campbell House Galleries, Southern Pines, NC.
Santa Fe Pottery, Santa Fe, NM www.santafepottery.com
Creative Clay, Alexandria VA
Marshall Gallery, Greensboro, NC
Riggs Pottery, in the woods near Carthage, NC. (The Riggs' studio is open by appointment only. For directions please call or e-mail riggspottery@gmail.com.)