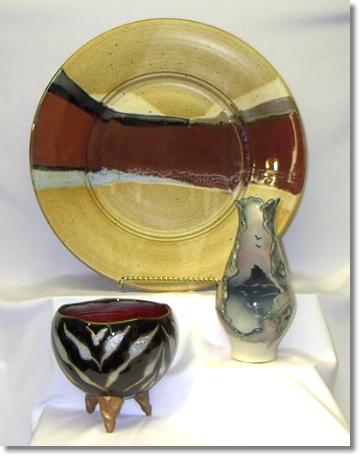 Blue Moon Gallery is the Seagrove area's premier gallery, featuring contemporary and traditional pottery by well-known North Carolina potters and other nationally renowned artists. In addition to pottery, we also feauture jewelry, hand blown and stained glass, metal works, candles, and one of a kind artwork.

The owners, Georgia and Byron Knight, are potters themselves, and carefully select all of the pieces in the gallery, taking pride in representing only the finest artists. We not only bring such well-known artists as Don and Marion Davis, Charles and Linda Riggs, Judy Brater-Rose, J. Davis, Kerry Gonzalez, and Lambeth Marshall into the gallery, but also talented rising artists.

Our 1900 sq. ft. gallery exhibits everything from cups, bowls, plates, pitchers and mugs, to exquisite one-of-a-kind decorator pieces. No matter your taste, budget, or decor, you will find something at Blue Moon Gallery. Blue Moon, with a sizable collection and exclusive offerings, attracts visitors not only from the surrounding communities, but travelers from throughout the United States and from around the world. We also offer bridal registries, accept custom orders, accept all major credit cards, and will ship nationwide. We are open daily, Monday through Saturday.
For more information on our gallery, and our pottery, please feel free to contact us.
Be sure and check out our personal Web site for more images of our work, and our gallery offerings!